Update September 22, 2020
Nashville SC has unveiled its remaining schedule with regular season games running through November 8, 2020. Four home matches will allow limited fans at Nissan Stadium. You can see the schedule and read about the limited attendance and rules on the club website. As you can see, tailgating will not be allowed. We are sad, but understand and look forward to tailgating together again before the home opener next year. In the meantime, we will continue to watch and cheer throughout the Music City. Follow any of our social media to stay informed about our upcoming plans.
Backline Tailgates
The Backline tailgates before every home match at Nissan Stadium in the area below. Everyone is invited to hang out and enjoy the soccer company of fellow Nashville SC supporters. Supporter groups usually serve food and drinks so highly encourage you to join one. Free beer for Backline members is provided in the Partner area. Tailgate begins when the lot opens typically four hours before kickoff.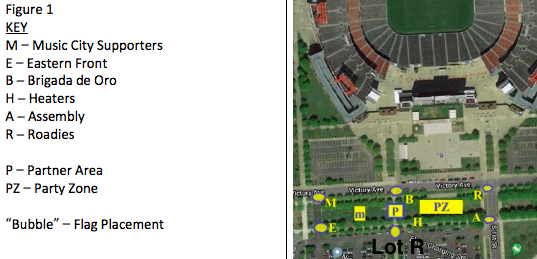 Nissan Stadium Guidelines
Nashville SC strongly encourages fans not to bring any type of bag to Nissan Stadium to expedite entry at the gates, but if you need to bring personal items to the game, please familiarize yourself with the stadiums clear bag policy.
To provide a safer environment for the public and speed fan entry the Nissan Stadium enforces a policy that limits the size and type of bags that may be brought into the stadium.
Clear bags must be 12″ x 12″ x 6″ or smaller.
Non-transparent bags can be no larger than 4.5" x 6.5," even if you are placing it inside your larger clear bag. Please Note: Non-transparent bags are still subject to inspection by security personnel at the gates.
All styles of clear bags are acceptable as long as they are 12″ x 12″ x 6″ or smaller. This includes clear cinch sacks, clear diaper bags, gallon Ziploc bags, etc.
The clear bag policy will be in effect for all Nashville SC matches held at Nissan Stadium.