Backline Tailgates
The Backline tailgates before every home match at Nissan Stadium in the area below. Everyone is invited to hang out and enjoy the soccer company of fellow Nashville SC supporters. Supporter groups usually serve food and drinks so highly encourage you to join one. Free beer for Backline members is provided in the Partner area. Tailgate begins when the lot opens typically four hours before kickoff.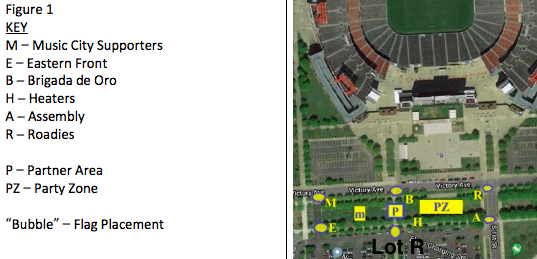 Nashville SC v. Atlanta United
-When: 3:00-6:30
-Where: Lot R and grass area adjacent to it next to the Pedestrian Bridge
-Who: Everyone!
-What to expect: Food, drinks, music and games. Come ready to meet new friends and reunite with old ones!
-Featured Brewer: East Nashville Beer Works starts pouring free beer for Backline members at 3:30 in Partner area
-Hot Chicken Eating Contest: In the Party Zone at 5:15. Each SG (Nashville and Atlanta) will have one representative eat 2 Hattie B's Shut the Cluck Up tenders and then go 10 minutes without liquids. Free samples for others while lasts.
-March: Begins at 6:30p and walking in gates no later than 6:45p.
Post-match party in the tailgate area until 11p when the Nissan Stadium Lots close.

MLS Inaugural Match Scarf
Limited run available for $20. At tailgate and night before parties.


Nissan Stadium Guidelines
Nashville SC strongly encourages fans not to bring any type of bag to Nissan Stadium to expedite entry at the gates, but if you need to bring personal items to the game, please familiarize yourself with the stadiums clear bag policy.
To provide a safer environment for the public and speed fan entry the Nissan Stadium enforces a policy that limits the size and type of bags that may be brought into the stadium.
Clear bags must be 12″ x 12″ x 6″ or smaller.
Non-transparent bags can be no larger than 4.5" x 6.5," even if you are placing it inside your larger clear bag. Please Note: Non-transparent bags are still subject to inspection by security personnel at the gates.
All styles of clear bags are acceptable as long as they are 12″ x 12″ x 6″ or smaller. This includes clear cinch sacks, clear diaper bags, gallon Ziploc bags, etc.
The clear bag policy will be in effect for all Nashville SC matches held at Nissan Stadium.